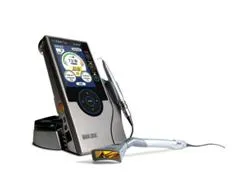 EZ Lase® Technology
Doctors have used lasers for years to provide better care for the patients- in LASIK vision correction, for removing skin blemishes, and all kinds of surgery. Now you can benefit from this advanced laser technology for your dental care, with EZlase® 940.

Improve a Patient's Smile
We may suggest contouring or shaping a patient's gum using a laser to improve appearance of the smile-safely removing excess gum tissue that may give then a "gummy" smile, or make their front teeth appear irregular in size or shape. We may also suggest laser whitening, which only takes 20 minutes and leaves your smile sparkling white.

Remove Oral Growths
We may use EZLase® 940 laser to remove growths or excess tissue in patient's mouth including gum tissue oven and unerrupted tooth, small tissue tags, and growth called fibromas.

Fix a "Tongue Tie" or Prevent Gum Recession
Connections that restrict the movement of patient's tongue or cause their gums to recede can be "released" with EZlase 940.
Treat Periodontal Disease
EZlase® 940 can be used to remove debris and bacteria between patient's teeth and gums that can cause bleeding gums, gum recession and even loss of teeth. Lasers in dentistry have shown to reduce bacteria and may even stimulate gum tissue growth.
Less Bleeding & Swelling
Due to its conservative, gentle cutting action and coagulating capabilities, the EZlase® performs many soft tissue (gum) procedures with little or no bleeding and less post-op swelling.

Relieve the Pain of Cold Sores and Fever Blisters
EZlase 940 provides immediate relief from painful cold sores and fever blisters. We may also use the laser to relieve TMJ pain.